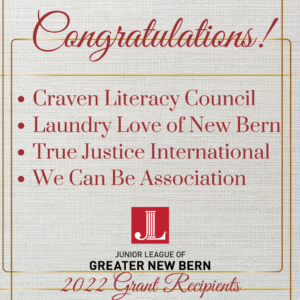 The 2023 Application Period Will Open on February 1, 2023.
Grant Opportunity
We strive to promote and perpetuate social change within the communities of Greater New Bern. To further our reach, we are offering grant opportunities to other local nonprofits that have also committed their talents to positively impact Greater New Bern.
Eligibility
501 (c)(3) tax-exempt status
Must serve the Greater New Bern area
No political organizations
No institutions of higher learning
Funding
Our annual fund availability is dependent upon fundraising and will vary year to year. Please revisit this page for updated information.
Application
All parts of the application are required unless otherwise noted. Failure to include any requested information will remove the organization from the pool of applicants. The application consists of the following:
The Application Cover Sheet
Narrative

Executive Summary
Purpose of Grant
Evaluation
Budget Narrative/Justification
Organization Information

Attachments

Copy of 501(c)(3) tax-exempt status
Board members and affiliations
Financials
Letters of support
Annual Report

Budget
(A new grant application will be available on February 1, 2023.)